Dec 21st 09

Dear Friend,
Merry Christmas and a Christ-filled New Year to you! As we celebrate the gift of our Savior, I would like to personally thank you for your faithful prayers and generous support this year.
Through your prayers and support, you have taken the light of Jesus Christ to hurting people in desperate need of His love. You have impacted their eternal destiny and inspired them to a deeper, more intimate relationship with Jesus and God's Word.
What a year of spiritual harvest! Can you believe that 2009 is nearly gone? It's been a year so full of opportunities for Shades of Grace to minister and to grow that the time has quickly passed.
Now 2010 is almost here – and we have so much to do to get ready for what I know will be our greatest year of ministry.
Looking back over 2009, we are so thankful for all that God accomplished through Shades of Grace. Through the sharing of my testimony, teaching, discipleship and new ministry outreaches, we have seen many lives transformed from the inside-out, thanks to God's love and grace.
Passionate Pursuit – our monthly ladies' event – experienced burgeoning growth and life-changing results for many women! We grew ten times over and reached hundreds of women of all ages, church denominations and levels of spiritual maturity.
This year we launched a Concert of Prayer event and prayer movement. People traveled from across Texas to attend the event – and many joined the concert from across the nation live via webcast.
Combining extended worship with intensive prayer, a Concert of Prayer brings powerful results. Throughout the Bible and the history of the great revivals, concerts of prayer have preceded a life-changing, revolutionary descent of God upon the soul of man, the heart of the church and the life of the community. Learn how you can join the Concert of Prayer.
How thankful I am for your faithfulness in supporting us with your prayers and generous giving!
Thanks to you, the past year has been incredible! Through sharing the truth of God's Word, many people received the inspiration and truth they need to view their trials from a Biblical perspective and pursue Christ diligently. And now we are ready to do even more to take God's Word to men, women, and even children who need a touch of His love and grace.
With the New Year just around the corner and so many people in need of a fresh touch from God, I'd like to ask you to please consider helping us start the year off right – ready to help them. In fact, our immediate need is for $150,000 within the next few weeks.
Please pray about giving your most generous year-end gift today. Your gift of $20, $15, $30 or even more will help meet this $150,000 need and make a difference as you send the Gospel out to thousands of hurting people. I cannot recall a time in recent history when so many people across our nation have been affected by trials…and so hungry for hope and encouragement – so receptive to the life-changing message of God's Word!
We want to reach people in the midst of their tests and trials – and point them to Christ. We want them to truly experience the life-giving power of God's Word. And we want to lead Christians across America to pray and intercede for the nation and the Church — In light of the times and the potential limits to our freedom as Christians, this is imperative. Your gift of $20, $15, or $30 today will prepare us to accomplish all of these vital goals in 2010.
And just as a reminder, if you give by December 31, you can receive tax benefits for 2009! I know that's not why you give, but it is a nice benefit.
Thank you for helping us increase our outreach and launch unprecedented ministry in the coming months. And I can personally assure you that every dollar you give will be used to share God's comfort – the life of His Word – with hurting men, women and children at a time when they need His touch more than ever.
I hope to hear from you soon. I pray God's blessing on you for all you've done with Shades of Grace to touch lives and transform hearts for Christ! May God fulfill His promise in your life: "A generous man will prosper; he who refreshes others will himself be refreshed" (Proverbs 11:25).
Thanking God for You,


Passionate Pursuit has been such a blessing to me…
The last few months have been an extraordinarily trying time. I was working for an unethical woman who had just been caught in some illegal activities. She is currently under federal investigation. My reputation was beginning to suffer as a result of her sin and my close proximity to her. As an attorney I value my reputation for honesty because it is rare in my profession. My parents had recently divorced. My house had not sold. I couldn't find a different job. I truly thought God had forgotten me.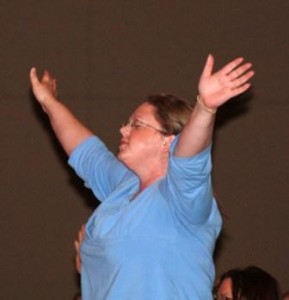 I attended Passionate Pursuit and heard Natalie talk about what happened when Jesus sent his disciples into the boat and the storm came up while Jesus was praying. Two things stood out to me. First, Natalie pointed out that Jesus saw the storm coming and sent his loved ones out into it anyway. I had never considered that He might purposely and lovingly send us into the heart of a storm.
Second, Natalie pointed out that the Scriptures clearly state that when they were scared, Jesus had not YET joined them. The "yet" spoke deeply to me. I went home and read and meditated on that scripture passage for weeks.
Within a month, God provided a job…It allowed me to leave while my reputation was still in tact. The job took me back to Dallas where my mother is – another blessing. My house hasn't YET sold, but "yet" has a new sound to me because of that night at Passionate Pursuit.
I love Passionate Pursuit! It is like a mini-Women of Faith Conference for me each month. However, it is much more affordable and I feel so much more pampered and loved…and free. At the October Passionate Pursuit – the Concert of Prayer – God supernaturally lifted anxiety and oppression that had been plaguing me for years!
­­— Bethany

"Although life is still a struggle for me and my family, I know God is faithful…and your life is living testimony to that! Thanks for the encouragement – revealed through your life – that brings endless hope to hurting people. I praise God and know He is behind it all!!"
– Paula
"I've been a doubting Thomas. I didn't realize until the message tonight just how much my faith has diminished over time through disappointing, hurtful circumstances. Tonight, that has changed! God has breathed fresh life into me and my walk of faith, and I know there is more to come."
– Valerie
"Just this morning I prayed – I was out of faith, gas, or hope. Your sermon was my answer from God! It's like I'm just beginning to see who God really is. This morning I felt like I was standing alone. Now I know I'm not! Thank you, Jesus."
– P.F.
"I watched the concert of prayer tonight — powerful praise and worship! I worshiped God in my living room along with you…God is calling me to a higher place with him; I must share the gospel with others — in the places he gives me, no matter the cost…Thanks for leading us into his presence "
– Cynthia
I saw your post (Isaiah 58:1, "Like a Trumpet"). It is my desire that God would develop me into that kind of man. Thanks for your boldness…
– Kevin
"Because of this time of prayer and praise I realized that God's standard of holiness must begin in me — in the small and big decisions I make every moment."
– Carla
"The day I heard your testimony was a life-changing day for me.I have never been the same since!We Christians are in and out of the Word.We don't know its value.Your testimony showed me that the Word is our only hope."
– Michele

Follow @shadesofgrace_
Disclosure of Material Connection: Some of the links in the post above are "affiliate links." This means if you click on the link and purchase the item, Shades of Grace will receive an affiliate commission. Regardless, I only recommend products or services I use personally and believe will add value to my readers. I am disclosing this in accordance with the Federal Trade Commission's 16 CFR, Part 255 "Guides Concerning the Use of Endorsements and Testimonials in Advertising."